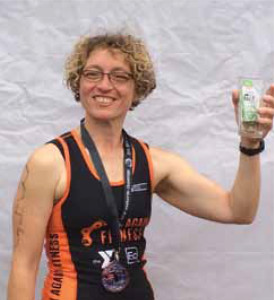 How one woman overcame her fear to compete in tris
"Have you ever thought about a triathlon?" a friend said to me in the middle of a half marathon.
"What? A triathlon? I can't swim!" I replied.
A year and a day later that woman was taking my picture. I had just won my division in my first sprint triathlon.
It is not that I couldn't swim; I could float, do an elementary backstroke, a quasi breaststroke and I had passed the Boy Scout's blue swimmer test when I took my boys to camp. But I did not think of myself as a swimmer. And deep water? NO WAY! I had bad form and swimming was tiring, I was afraid of deep water.
That all changed in October 2014.
I had started my weight-loss journey seven years before. I lost ninety pounds and kept it off but found that I needed to keep challenging my mind and my body or the scale started creeping up again.
At the time, the new YMCA had just opened in Traverse City. My kids were enrolling in swim lessons and Tri-Again Fitness (a triathlon training facility located in the Boardman River Branch of the YMCA) was starting group classes. I decided it was time to learn to swim. So with a dream and a new workout to energize my continued maintenance, I arrived at the pool at 6 a.m. that first morning and prepared to be embarrassed.
Tri-Again co-owner and coach, Tony Venticinque, has often said he wishes we had video of when I first started to swim. I have very vivid memories of those first few times in the pool. I could stand up, the pool was shallow. I had little endurance so the focus was body position and building stamina. The plan was to work on skills and get stronger.
Drill after drill; swimming became easier. I found the cheering from my teammates made it fun. By the first of the year we were in the larger competition pool. I suddenly had to face my real fear: deep water. Coach was telling me I was strong. My teammates were telling me I was strong. My brain was telling me I was going to drown.
Each month we assessed our swim progress. For 20 minutes we would swim as many lengths of the pool as we could. My first assessment I kept panicking and in order to catch my breath, I had to roll over on my back. That first assessment I barely made 20 lengths. I could not overcome the voice in my head that kept saying to me, as I gazed 13 feet down to the bottom at the deep end: "You should be down there."
With great coaches and attentive lifeguards, however, I was making progress. I was swimming and gaining two to three lengths each assessment. Then there was the drill that put me over the edge.
During this drill I was required to swim from the shallow to the deep end, jump out, touch the wall, jump back in; over and over again. Every time I jumped into the deep end I was afraid. Finally I broke. Clinging to the side of the pool and sobbing, I gave up. Through it all my coach was talking to me, telling me I was doing great, telling me how proud he was of me, how glad he was that I was working so hard. Those were not the first tears I shed in the pool and they wouldn't be the last, but it was definitely a turning point. I didn't quit.
In the weeks to come I would continue to jump into the deep end, even from the diving board! The voice in my head stopped telling me I was going to drown. Life was good.
Then we moved to open water.
The day before my first race in Southwest Michigan my coaches met me at the lake to preview the 550-meter swim portion of the triathlon. Even in a wetsuit I could feel the water was cold.
With foggy goggles and my coach, I swam out to the turning buoy. Coach Rebecca (Tony's wife) was going slowly just for me, talking to me and helping me not to panic. The water, not particularly clear, had a murky bottom, a blessing and a curse because I could not see what was down there.
When we got to the buoy, I looked around, I saw how far I was from shore and panicked. Rolling over onto my back, I took lots of deep breaths and started swimming back.
The next day during the race I didn't panic. There were great volunteers in the water cheering me on, and offering help if I needed it. It felt good to finish the swim and hear my coach cheering. One hour and 43 minutes later, after 550 meters of swimming, 12 miles of cycling and 5 kilometers of running, I cried. I had finished!
Training for triathlons is hard work. Facing my fears is difficult; constantly pushing myself to the next level wears me out, but there is no better way to work out. The challenges become easier when I have my teammates cheering for me. Tri-Again Fitness has become a second family to me. Who else would get up at 5 a.m. to ride and run with me? Help me buy new equipment? Loan me equipment the night before a race when mine fails? And celebrate each little achievement?
I have three races under my belt now and with the support of my teammates I know there will be
many more.
The original article was written by Holly Olszewski and was featured in the Novermber/December 2015 issue of Grand Traverse Woman.