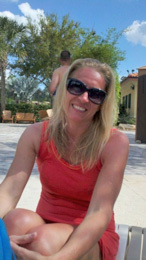 Rebecca has been a life time athlete competing in her first road race at the age of 7. Since then she has competed collegiately, as well as in adulthood. In middle school she was ranked 7th in the state in the 800. In high school she was a regional winner and state qualifier for three years. Moving on to college, she competed in the heptathlon. In more recent years she has found her niche in triathlon and marathon racing. Competing in Bay Shore, The Charlevoix marathon, Disney's Goofy Challenge, Midland marathon . Winning several 5k road races and extreme runs. Competeing in several Olympic and sprint triathlons. This summer she took home 3 overall first place finishes and 2 overall second places finishes. Rebecca has completed 4 Ironman and 3 Half Ironman races and qualified for Long Course Worlds.
Rebecca is an athlete turned coach. She has coached since 1993 in various sports.
Cross Country – 6 years
Track and Field – 21 years
Basketball – 10 years
Volleyball – 11 years
Soccer – 6 years
Baseball – 3 years
Softball – 3 years
Gymnastics – 4 years
Group Training – 7 years
Personal Training – 7 years
Weight Lifting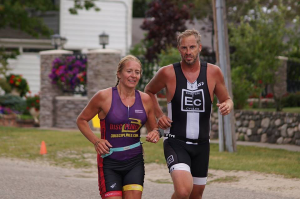 She has a Bachelors of Science in Management of Health Services, Group Exercise certification from ASFA Personal Training Certification from ISSA. USAT (Triathlon) certification, Ironman coaching certification, SWC group water certification and USATF (Track and Field) certification.
She has an enthusiasm for helping others better themselves through physical activity gives 100% of herself to help them achieve their personal goals.
Together Tony and she enjoy family time with their 7 children. The family enjoys camping, hiking, mt. biking, water sports, downhill skiing, and serving in their church.